How to Make a Rag Quilt


How to Make a Rag Quilt: Quick &
Beautiful Rag Quilts
by Rebecca Aikema, Our Busy Little Bunch
Rebecca blogs over at Our Busy Little Bunch. She's a stay-at-home mom to four great kids, and she loves to quilt and sew when she gets the chance…Read more about blogger.
Have you ever wanted to know how to make a rag quiult? To this day, my kids' favorite blankets to play and snuggle with are rag quilts I made for them when they were toddlers. Babies and children love texture and a rag quilt is full of it. The AccuQuilt GO!® Rag Square-5 1/4" (55033) was the first die on my list when I received my GO! Baby® Fabric Cutter. I have spent many hours snipping rag quilts in the past which resulted in aching finger joints for days afterwards. One of the amazing things about the AccuQuilt rag dies is that all the snips (fringes) are done for you with one roll through the GO! Baby Fabric Cutter. And not only that, the fringes are cut every 1/4" which would equal a crazy amount of snips if done by hand.
How to Make a Rag Quilt: Step 1
First, use your AccuQuilt GO! Baby Fabric Cutter and dies to cut all the squares needed. The GO! Baby can handle two layers of designer quality flannel at a time. You may be able to use three or four layers of some thinner flannels although AccuQuilt recommends starting with one layer and working up. I typically start with two layers and work my way up. If it's difficult to cut, then go back down to two layers. The 5 1/4" Rag Square die features two rag squares on the die board, so the cutting takes no time at all. My girls love helping me with this step. As long as I've prepared the fabric by pressing it and cutting it to the size of the mat, it's a great task for them to take over. The AccuQuilt GO! Baby is so accurate and my girls do just as good a job as I would.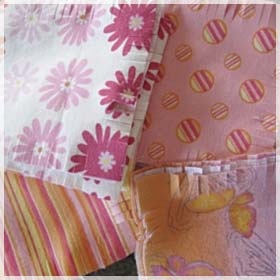 How to Make a Rag Quilt: Step 2
At this point, layer the rag squares in sets of two, wrong sides together. I choose to put 3" squares of batting in the middle of mine and sew an 'X' through the middle to keep it in place. I recommend using a walking foot for this step because a regular foot sometimes pulls on the fabric creating a pucker in the middle of the 'X'. You may want to sew identical fabrics together so your pattern will be the same on both sides of the quilt if you're doing a scrappy look on both sides. Using batting in the middle is completely up to your own preference. You can choose to skip the middle layer or use a third rag square of flannel instead. You can also use cotton rag squares for your top layer or even use minky or fleece rag squares for your backing. There are so many variations you can make for rag quilts. Rag quilts are also a great way to use up leftover scraps from other projects. Don't forget to use leftover batting scraps as well. I don't throw out any of my batting scraps--I just cut them into stacks of 3" squares and put them aside for my next rag quilt.
How to Make a Rag Quilt: Step 3
Next, you need to decide on the layout for your squares. I prefer to keep mine scrappy, but just like any other quilt, you can play with designs and color combinations. Then, sew the rag squares together in rows. If the quilt is longer in one direction than the other, I recommend sewing the longer rows together as it makes it easier to keep track of your rows when sewing less of them. The squares need to be sewn wrong sides together with a 1" seam to allow for the 3/4" fringe. A zipper foot works great for this if you have a batting square in the middle. This keeps the sewing machine foot beside the batting and makes the sewing go smoother.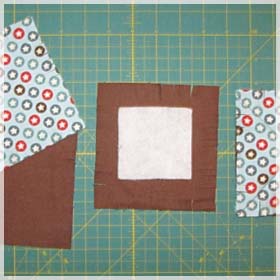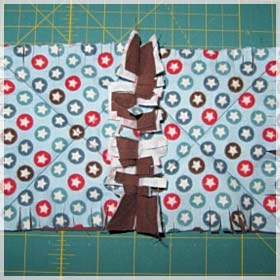 How to Make a Rag Quilt: Step 4
After the blocks are sewn together in rows, sew the rows together with your regular sewing machine foot or your walking foot. I like to use pins at the seams for this step to get accurate matching corners. Even though the AccuQuilt GO! Fabric Cutters provide accurate cutting, I still find that flannel has a bit of stretch to it and can behave badly when matching seams. Try to double check that the fringe isn't caught in the seams by accident while you sew. If you flip the finished quilt over later and see any poking through, just trim them with your scissors. The amount of fringe with GO! rag dies is much more than cutting by hand so you won't notice if a few have been trimmed. Once all the rows are sewn together, do an additional stitch line around the whole perimeter of the quilt with a 1" seam allowance. Now you can just throw the quilt in the washer and dryer and you'll have a beautiful finished rag quilt.
Rag quilts are so quick to make with the GO! rag dies, and they make great gifts! The rag quilts I've created with GO! dies rag up beautifully even after only one wash. It will only continue to get softer and rag more with additional washes. You can make rag quilts in any size and mix and match the different sizes of GO! rag dies to make different patterns or even add rag circles, hearts, and other shapes onto your quilt. Have fun creating some quick rag quilts with your GO! or GO! Baby Fabric Cutter!
So that's how to make a rag quilt! Be sure to watch the helping quilting videos below if you want more infomation.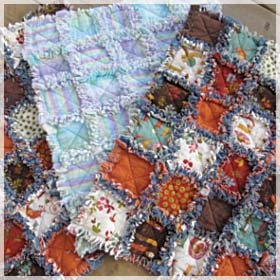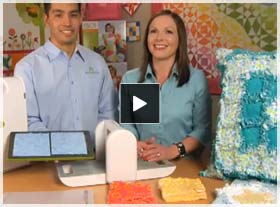 Watch Video:
How to use the GO! Fabric Cutter
to cut GO!® Rag Square-5 1/4" (55033)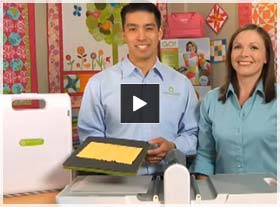 Watch Video:
How to use the GO! Fabric Cutter
to cut GO!® Rag Rectangle-5 1/4" x 8 1/2" (55080)
Let us know if you have any tips for how to make a rag quilt. We'd love to see what you come up with.
About Blogger:
Rebecca blogs over at Our Busy Little Bunch. She's a stay-at-home mom to four great kids, and she loves to quilt and sew when she gets the chance. She loves nap times. Sewing and quilting are great ways for Rebecca to spend her time, and blogging helps her connect with other crafters and keeps her inspired and motivated.

GO! Dies
Studio Dies
GO! Projects