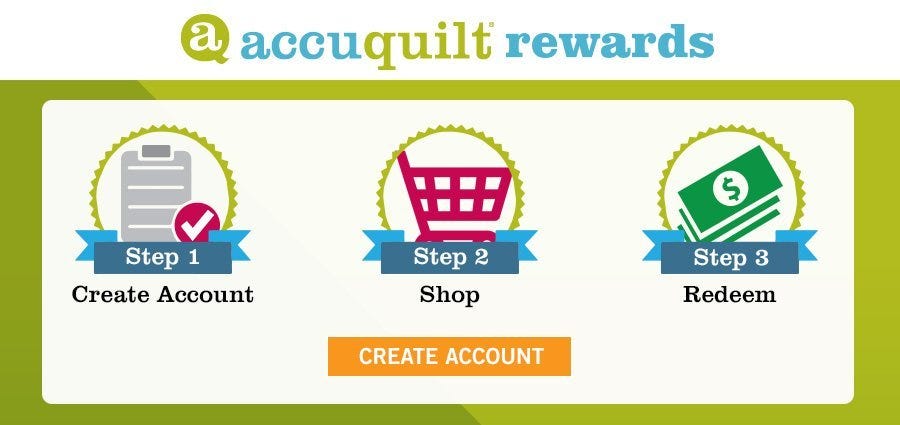 What is AccuQuilt Rewards?
AccuQuilt Rewards is our online rewards program that enables you to earn AQ Points that can be redeemed for discounts on future accuquilt.com purchases. The program is simple and requires no commitment from you.

Earn 250 FREE Reward Points now!
when you Register a New Customer Account.
If you are currently a registered member of ca.accquilt.com, you have been automatically enrolled in the program.

How do I earn AQ Points?

Earning AQ Points is easy and there is only one mandatory rule – you must be logged into your account to earn and redeem points.


Three Ways to Earn AQ Points:
When You Shop


For every net dollar spent, you will earn one point. So for example if the subtotal of your purchase is $64.50 after any discounts, you will earn 64 AQ Points. The total points you will earn for your purchase will be displayed in the shopping cart above the subtotal.
When You Submit a Product Review


AccuQuilt truly values customer feedback, both positive and negative. For every review you submit (up to 20 a month), you will earn 10 AQ Points. All reviews are reviewed by the site administrator to ensure there is no offensive content and then posted on the site. Once your review is posted, 10 AQ Points will be added to your rewards account.

How do I redeem AQ Points?
Points earned can be redeemed for discounts on future purchases in 1-point increments (50 points = $1). There is a convenient slider in the shopping cart where you can adjust how many points you would like to apply to your purchase. The slider will dynamically adjust your order subtotal to reflect the number of points being used.

How much are AQ Points worth?
Every 50 AQ points is worth $1, redeemable on future accuquilt.com purchases. Points can be redeemed on accuquilt.com merchandise only and cannot be redeemed for cash.

How long do my AQ Points last?
From the time AQ Points are earned, you will have one year to spend them. We will notify you one month and again one week prior to the expiration of your unused points to give you a chance to redeem them.

Where can I review my AccuQuilt Rewards account and Refer a Friend?
Once logged into the site, click on 'My Account' at the top of any page and then click on 'My Points and Rewards' on the left-hand side to review your account. Your current AQ Points balance is also displayed while you shop on the right-hand side of every product and category page. You can also click on "Referral Program" on the left-hand side to review your referral progress.

The AccuQuilt Rewards program is administered by AccuQuilt management, which has the sole discretion to change or terminate this rewards program at any time.