Feather Quilt Pattern for GO! and Studio
7
AccuQuilt Rewards is FREE.
Earn Reward Points for orders placed, reviewing products and referring friends.
Redeem Reward Points for discounts on future purchases.
Learn More about AccuQuilt Rewards.
Sign up for a Free account to easily see which dies are compatible with your cutter!
Cutter Compatibility
This die is compatible with these cutters:
Create Free Account
Finished Size: 37 1/2" Square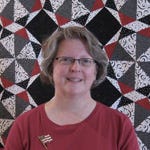 Designed by
Kay Gentry
of Noble Needle Quilting & Sewing
Feathers have long been a favorite motif for quilters. Feather Quilt is the first of my quilts using the feather as a design element. Create a dramatic design statement with various blue and green tones in this stunning quilt. The feathered effect is created with ease when you use an AccuQuilt Studio or GO! and dies. The system cuts more than one layer at a time, so it takes an unbelievably short amount of time to cut all the pieces and move on to the fun part: stitching! The feathers can be die cut using the AccuQuilt Studio or GO! Fabric Cutters and a die shape I designed for use by quilters and crafters. The pre-cut feather shapes are fused to the background and machine appliquéd. A pattern is provided to trace and cut your own feathers.
Pattern Downloads are best viewed using the latest versions of Adobe Reader and Internet Explorer.
When spring finally comes after a gray cold winter it is definitely time to party! The colors of this quilt will brighten any day any time of year. Use my choice of blue and green tones or choose your favorite colors. Three methods for making half square triangles are listed in the directions including die cutting using the AccuQuilt Studio or GO! Fabric Cutters.
GO! Dies Used to create this pattern:
GO! Feathers (55008)
GO! Strip Cutter-2 1/2" (55014 or 55017)
Studio Dies Used to Create this Pattern:
Studio Feather #1 (50111)
or Studio Feather #2 (50112) AND
Studio Feather #3 (50113)
Studio Strip Cutter-2 1/2" (50056 or 50612)
About Kay Gentry:
Kay Gentry has been designing AccuQuilt dies and patterns to use the dies since 2003. She has 78 patterns and a book, "Chisel Chase", that show creative ways to combine die shapes. Patterns also include traditional cutting methods. She and her husband are happy empty nesters and make their home in Beavercreek Township, Ohio.
We found other products you might like!
REVIEWS (1)
Get
10
AQ Reward Points for reviewing this product!