If you've never attempted a Double Wedding Ring quilt, you may still be familiar with its design. This quilt pattern is a popular bedcover in many homes, and comes with a history as rich as the romantic tradition that surrounds it.
Using the GO! Big to make a Double Wedding Ring Quilt Table Runner
Origins of the Double Wedding Ring Quilt Pattern
The double wedding ring design is steeped in a rich historical tradition dating back as far as the 15th century. It is reminiscent of the "Gimmal ring," a popular engagement ring in which the betrothed couple each wore one ring during their engagement, and then the rings were interlocked during the wedding ceremony and worn by the wife. The motif has even been found on 4th century Roman cups and calls to mind the familiar Celtic knot motif in the Western World.
The Romantic Double Wedding Ring Quilt Becomes an American Tradition
Though the pattern was first published in the United States in the early 1920s, the quilt pattern can be found as early as the late 19th Century. The Double Wedding Ring quilt pattern has long been a symbol of love and romance with its interlocking rings symbolizing marriage. The quilt was traditionally made by mothers and grandmothers for their children and given as gifts on their wedding day or anniversaries. Due to the popularity and romantic history of the quilt, many families treasure these quilts and pass them from generation to generation.
Love and Quilting in the Depression Era
The pattern was especially popular during the Depression era, as it could be created using scraps of fabric from unused bedding or other projects. The same method can be used for your modern version if you're looking to pair down the amount of scraps in your workplace or want to keep the pattern less formal than the more traditional color scheme.
Regardless of the fabric it was made of, old American folklore suggests that a marriage was blessed if the couple spent their first night together under a Double Wedding Ring quilt, signifying its importance as a traditional wedding gift. It's doubtful that you'd catch any children playing on such a quilt during this time, due to its importance.
A Modern, Creative Twist on an Old Quilt Pattern
Modern quilters have taken the traditional quilt design and added their own creative inspiration to it. While each quilt still maintains the appearance of the interlocking rings, diverse types and sizes of fabric can create a design that's unique to the taste of the quilter. Many quilters have also bucked tradition by using a different, bolder color than white, such as black or blue, for the background. The nontraditional color choice gives the entire quilt a much quirkier vibe.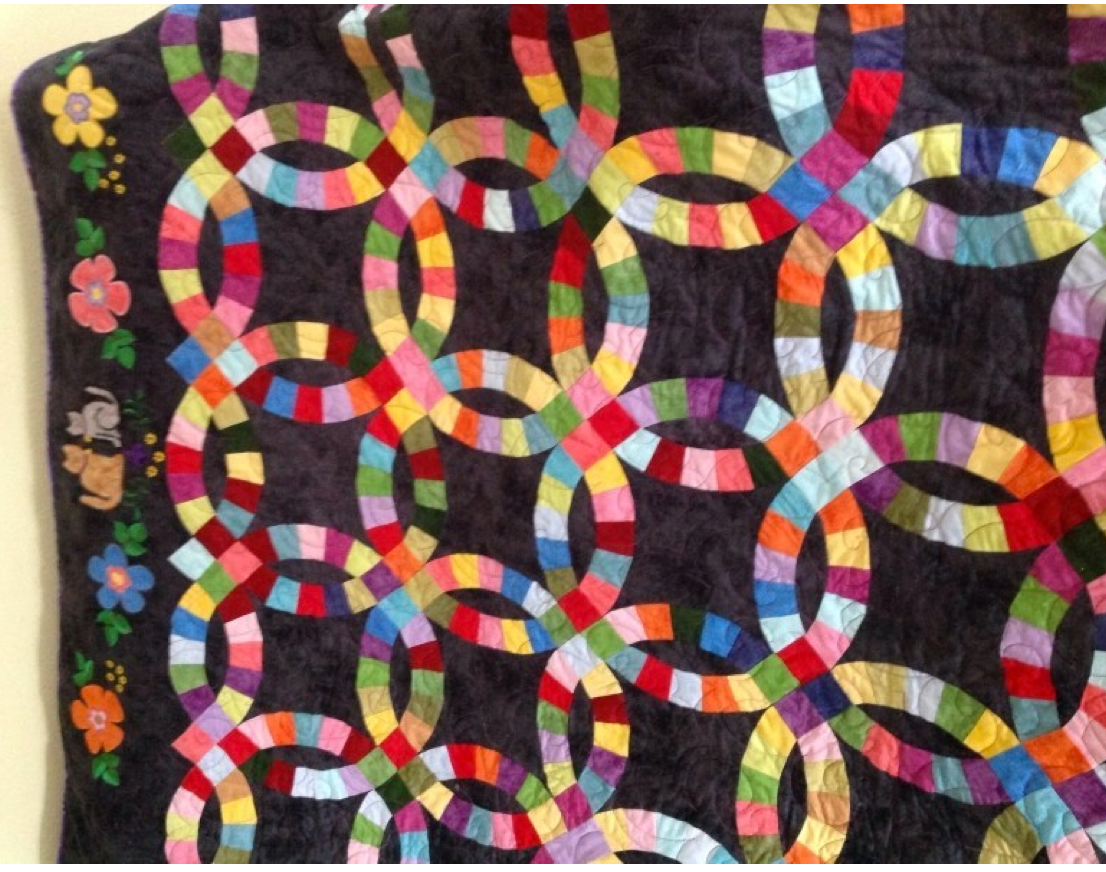 Jacqueline's Double Wedding Ring Quilt made by Velma Butler
Due to the complexity of the pattern, the Double Wedding Ring quilt might be a hard one for beginners to attempt. It includes a lot of moving parts and can be frustrating on the first try but if you stick with it, you'll be left with a gorgeous quilt that you can give as a gift to the loved ones in your life. Some quilters have even pulled together heirloom scraps of baby clothes and other cherished pieces of fabric add another sentimental element to the anniversary quilts made in this pattern.
If you're getting bogged down by trying to create a fresh take on an old favorite, just stick to the original pattern and try out varied color schemes or pull from your scrap pile.
Regardless of your spin on the design, the circular pattern set against an open background makes for a pleasing piece of patchwork that will be an enduring staple in your home.
Try the Double Wedding Ring Quilt Pattern Yourself!
To get started on your own Double Wedding Ring quilt, check out the wide selection of patterns on the AccuQuilt website. If you're not looking to create an entire bed quilt, we offer patterns for all sorts of projects, including a table runner (my personal favorite). These patterns are generally free, so you may not even have to pay for a download.
Traditionally, the double wedding ring quilt pattern is created using a white fabric as the background and uses other colorful scraps of fabric for the arches in an interlocking pattern. The quilt is then finished using a bias binding to keep its curved edge. To increase the total size of the quilt, a frame surrounds the design or borders are added.
To make the pattern much easier to execute, try the AccuQuilt Go! Double Wedding Ring 2-Die Set. This die set makes the usually labor-intensive and difficult-to-cut pieces a breeze. It includes all the shapes you need to piece together this beautiful design (including the notches!), and is compatible with two Go! and GO! Big fabric cutters.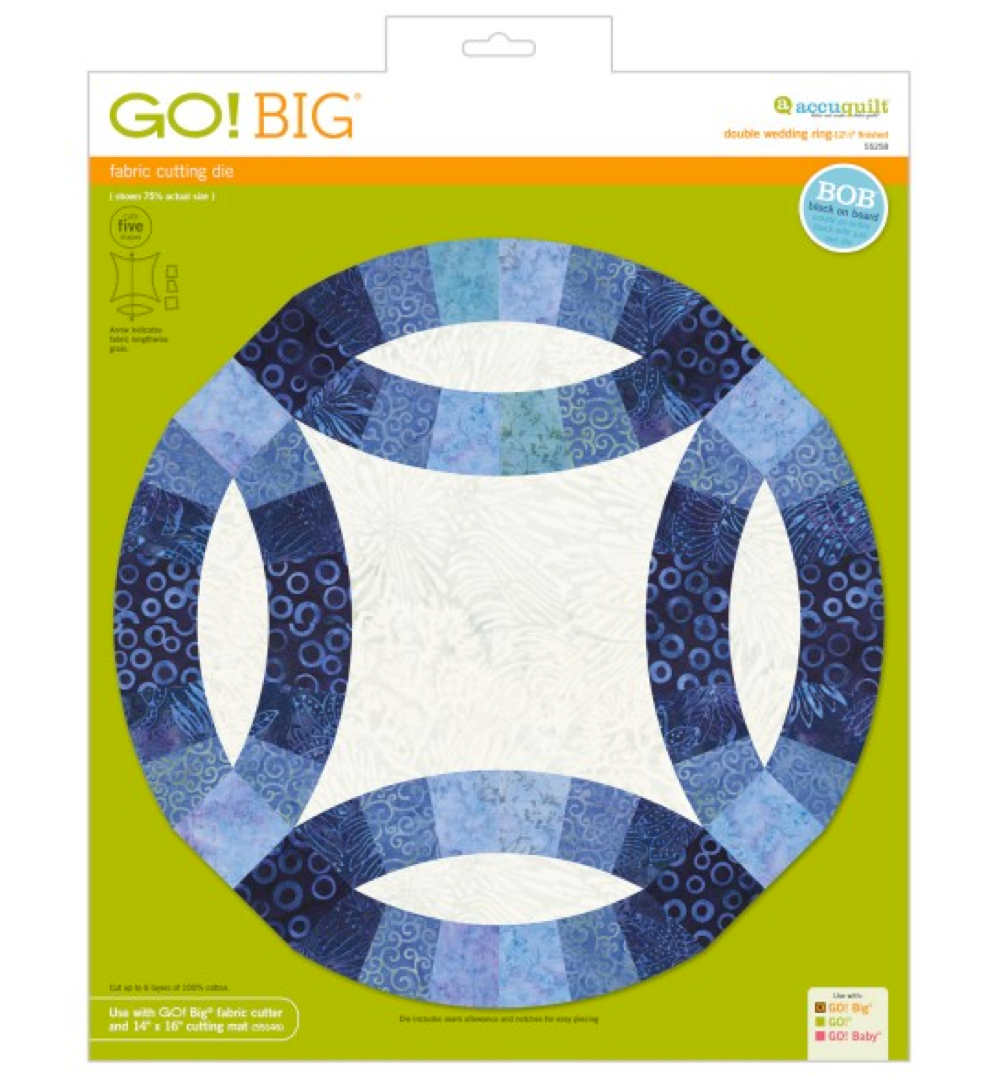 Double Wedding Ring Quilts Make Great Wedding Gifts
This enduring design makes for an unforgettable wedding gift for your loved ones. The double wedding ring quilt has such a rich and romantic history that your addition will be adding to a beloved tradition. Making such a personal and loving gift for the happy couple adds a much more personal touch than just choosing a gift off a wedding registry. Your loved ones will cherish this quilt and be impressed by the skill it took to make it.
The Double Wedding Ring quilt pattern, while challenging, is a design that makes a beautiful quilt. When you give it as a wedding gift, you'll make a lasting impression on the loved ones in your life. This quilt will be a treasured gift that your family and friends will love. Plus, the pattern can be used in many different projects, not just bedspreads.
The Double Wedding Ring Quilt, an enduring symbol of love and harmony in a marriage, is the perfect quilt project for any quilter who wants to build their skills. Steeped in the rich tradition of interlocking rings being the universal symbol for love, this quilt is the perfect wedding gift for the happy couple in your life.