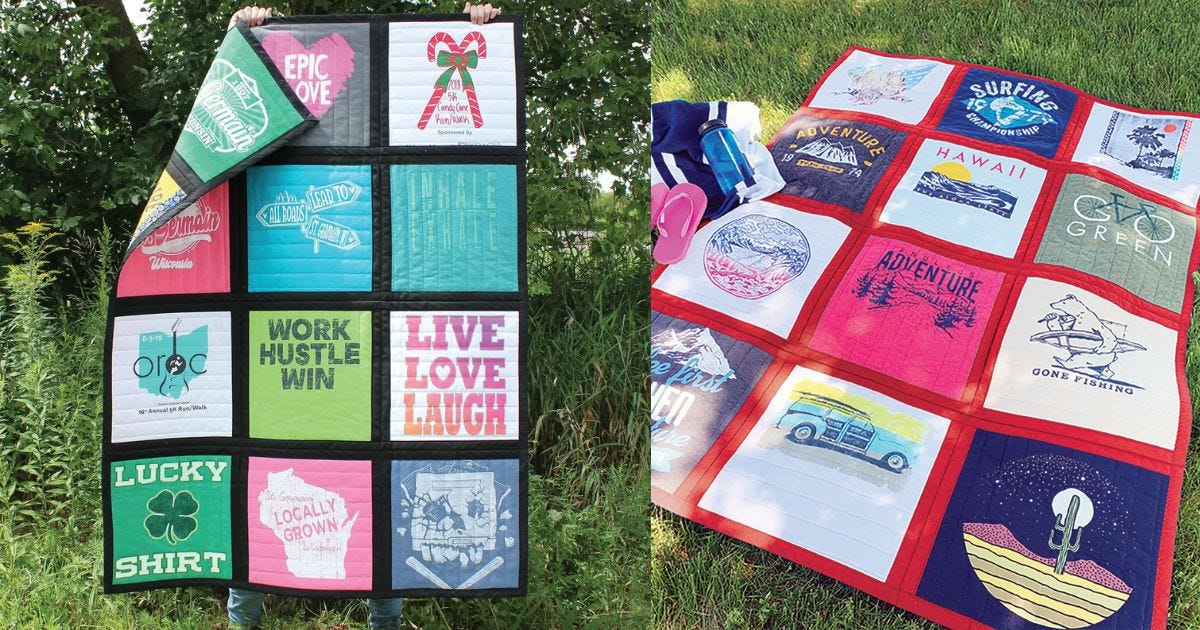 The June Tailor Reversible T-Shirt Quilt Kit is just what you need to preserve those memories. In fact, this kit is so easy to use that you'll probably find yourself making more than one. This kit makes a double-sided quilt that uses up to 24 shirts. Making blocks that are 14 1/2" x 14 1/2", you'll be creating a quilt that's 44" x 58", and it's "sew" simple!
I love the fact that this kit has everything that you need, except your shirts. If you can sew a straight seam, you can construct this entire quilt with no trouble from beginning to end. June Tailor has always prided itself in providing great solutions to the issues that sewists and quilters experience, and this kit is no exception.
Here's what's included in the kit:
24 pre-cut 14 1/2" fusible interfacing squares
12 pre-cut 14 1/2" batting squares
Marking/centering template with multiple sizes
16" x 16" Eze-View Press Cloth
7 1/2" yards of Sash-In-A-Dash
6 yards of matching binding
Easy-to-follow instructions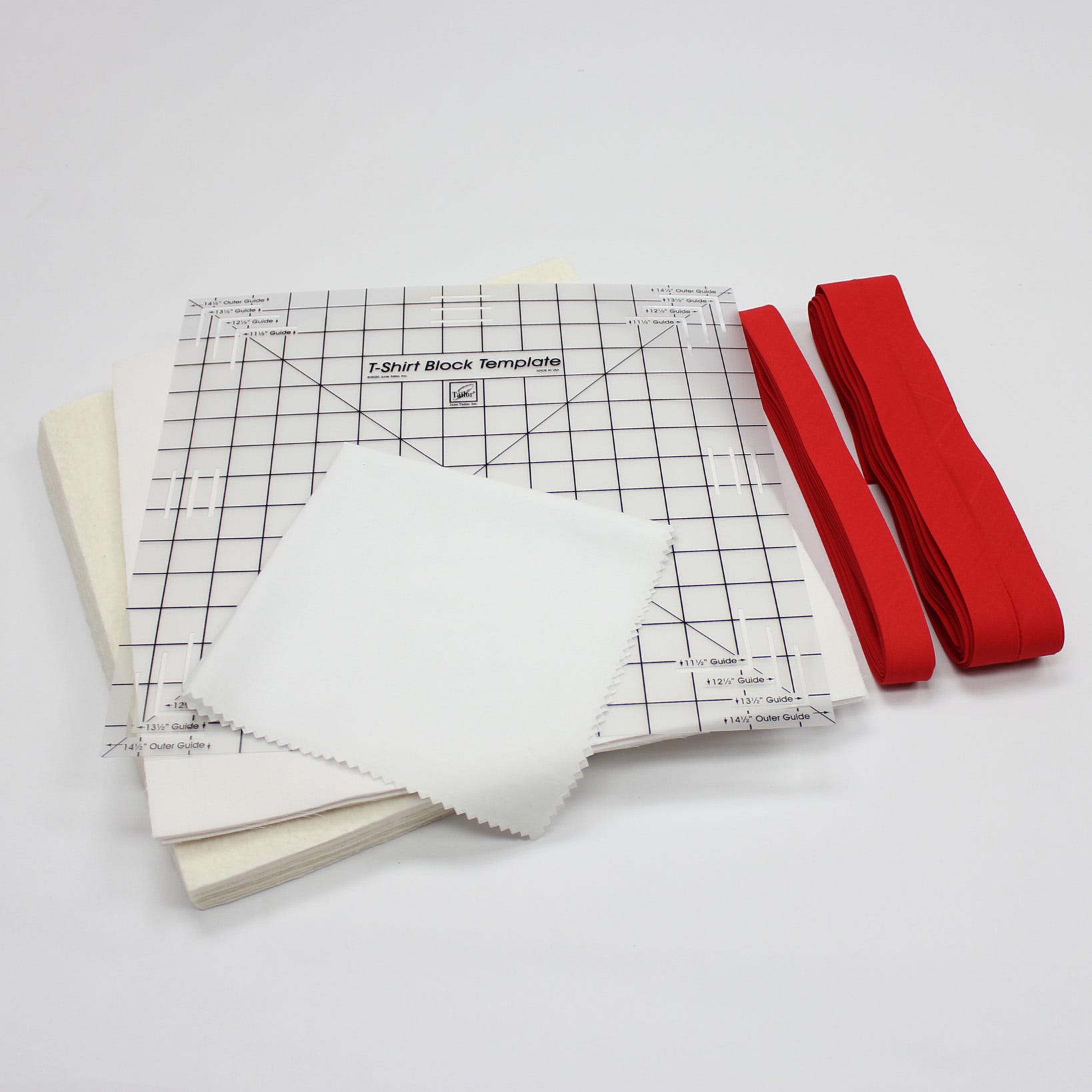 How Does It Work?
It's easier than you think! To start, you'll need the kit. Since everything you need to assemble your quilt is included (except the shirts and thread), you'll need to decide on a color for the sashing (fabric strips between the blocks) and the binding (to finish off the outer edge), from your choice of red, black or navy.
Okay, now gather up your 24 shirts. You'll need to cut up each side and remove the sleeves and neck line before pressing them. The kit includes a pressing sheet to protect the shirt design because June Tailor thinks of everything!
Next up, grab the T-Shirt Block Template. You'll be using this to center the design and mark the cutting lines to start creating your blocks.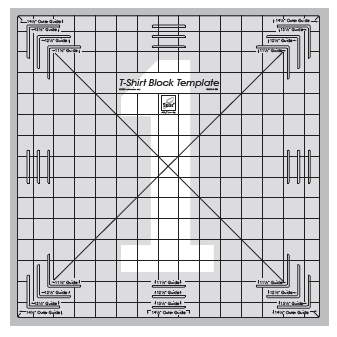 Following the kit directions, you press the included interfacing squares onto the back of the shirts. After deciding your layout for the front and back, you'll layer the fused shirt squares with the included batting squares between them, securing the layers with pins, June Tailor Quilt Basting Spray or Fabric Glue Stick, creating 12 t-shirt quilt block sandwiches.
Quilting Time
Quilting these squares is now easy! Simple vertical or horizonal lines are effortless to do. Try marking the quilting lines with a water-soluble marker or even using painter's tape, but any quilting design you like will work. You can quilt all the blocks the same or change it up – it's all in your hands.
Assembly
Putting the blocks together is a breeze with the included Sash-In-A-Das. Simply insert the block edges into the fold and stitch – it couldn't be easier! You'll repeat the same process to sew the rows together using the longer Sash-In-A-Dash pieces.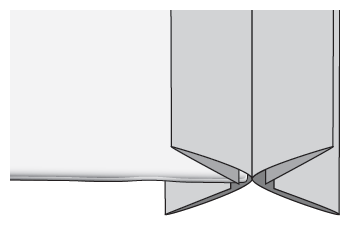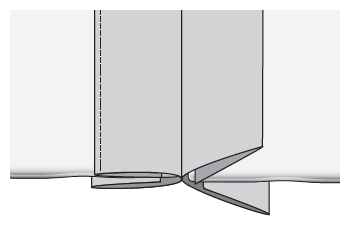 Finishing it Off
The last step is enclosing the outer edge with binding, and this step is easy, too. The double fold binding is included as well, and since it's all-in-one, there's no need to even piece strips together!
Start on one edge of the quilt, tucking the quilt edge into the binding strip. The raw edge will be next to the center fold of the binding.
Pin in place and sew close to the edge with a straight or decorative stitch, stopping 2" from the corners. The kit directions will show you just how to turn the corner and keep going to complete your binding, including how to sew the ends together.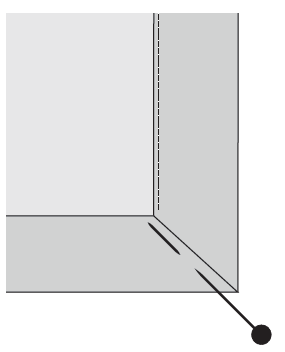 Just like that, you'll have a t-shirt quilt finished and ready for use by you or gifting to another. This process is so easy that those old shirts won't have a chance to pile up in the corner!
Want to take it a step further? Consider personalizing it even more with blank fabric squares for embroidery or using inkjet printable products to add pictures – the sky's the limit, really!
Now, don't worry if sewing just isn't your cup of tea – just check out MemoryStitch and let their t-shirt pros do all the work for you!