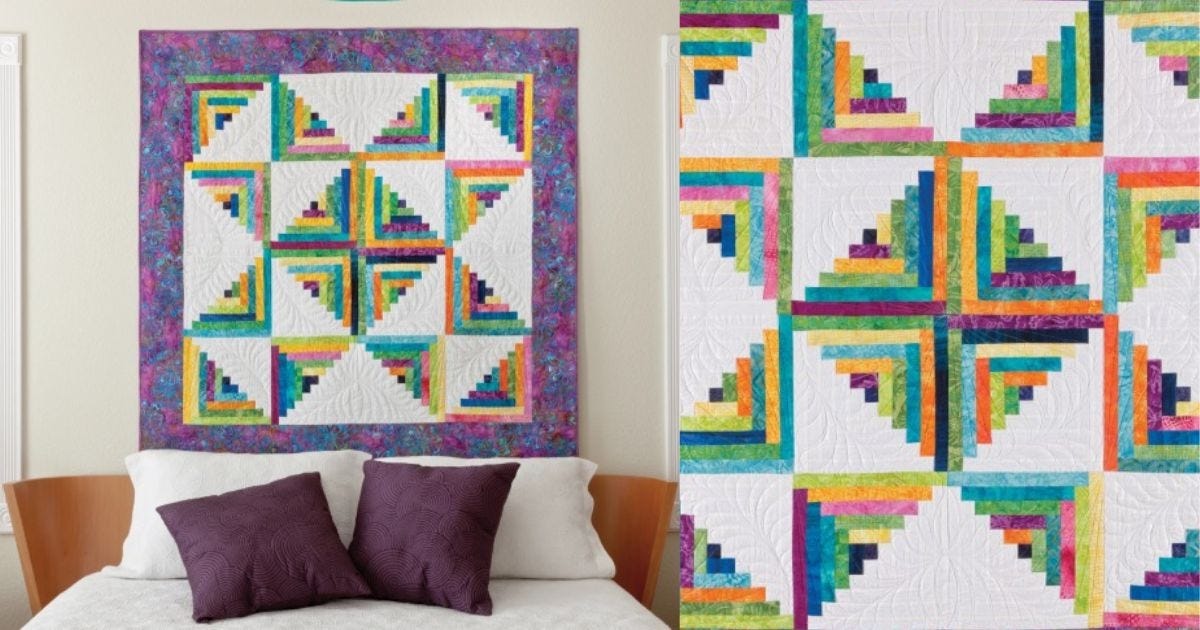 "
Just like that, our second 2023 AQS & AccuQuilt-Along is wrapping up! I never would have guessed how quickly some of you would have your quilt tops finished! Personally, I've really loved this journey, and sewing Log Cabin blocks has moved to the top of my "fun to sew" list. I've also loved seeing all the amazing quilts that you all have created during this quilt-along, so let's look at some of your creations!
Organization Inspiration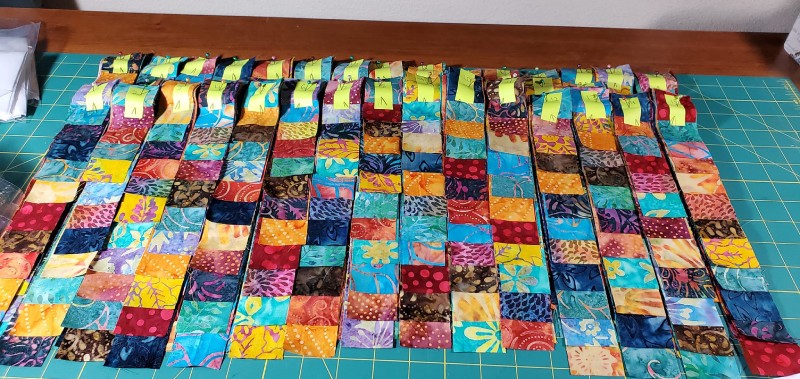 Keeping track of your pieces is ever-so-important with this project, and I loved seeing all the different ways quilters organized their pieces. Here's a look at how Windy A. made sure she didn't duplicate any fabric in her scrappy blocks! She clipped the pieces all together - isn't that clever? I need to try this with my next Log Cabin project!
Making It Your Own
Even though we all started with the same project, each and every one is unique and different – and wonderful!
Laurie B. L. really embraced the scrappy nature of this project, making both the light and the dark sides scrappy. I love this effect – and just think about all the scraps she managed to put to good use in the project!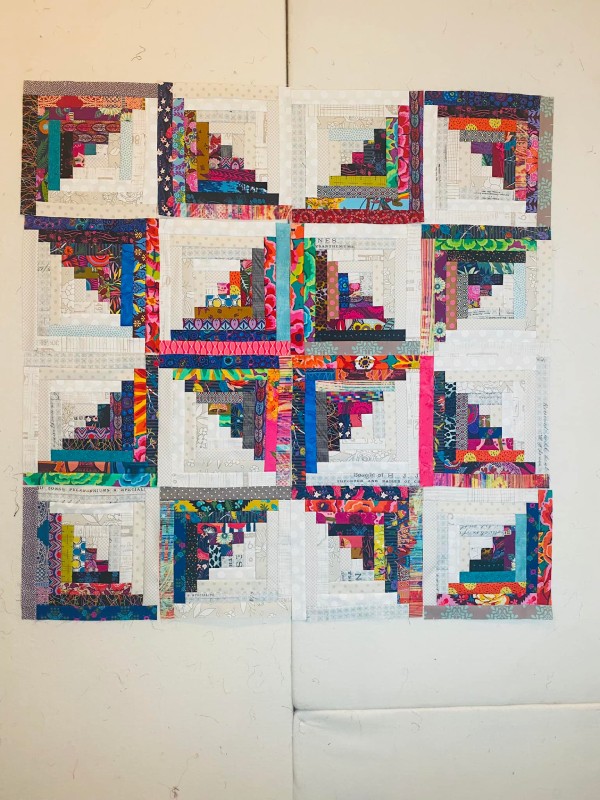 Here's how Laurie W. got scrappy: she pieced both her front and her back. I think scrappy backs are really fun, and totally worth the extra work!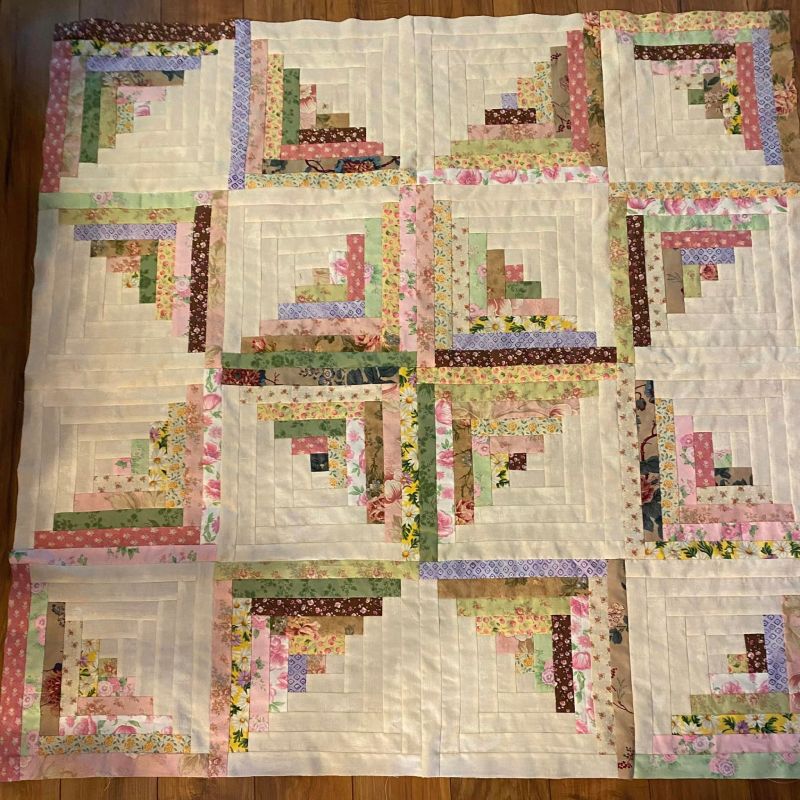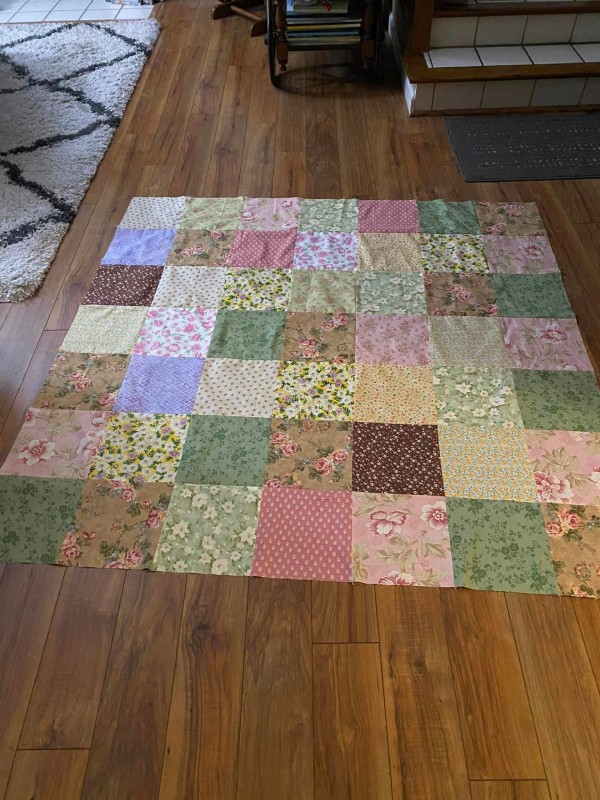 I'm in love with how Sue F. put her project together! One of the fun things about the GO! Log Cabin-12" Finished Square by Leslie Main Die is the flexibility. Sue made 8" finished Log Cabin blocks and alternated them with solid blocks cut with the GO! Square-8 1/2" (8" Finished) Die to showcase some darling bee fabric. This is a great way to really show off a special fabric. Her double border really pulls it all together, too.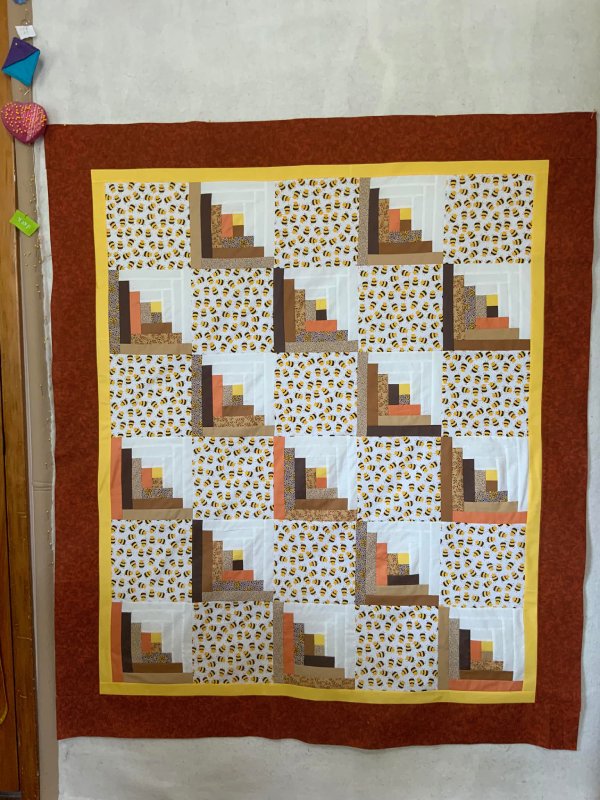 Joyce R. wanted to keep her project a little smaller, and went with 2 1/2" strips for her border. I think it's a really sweet look, letting the blocks really shine. I also love her gray tone on tone print fabric!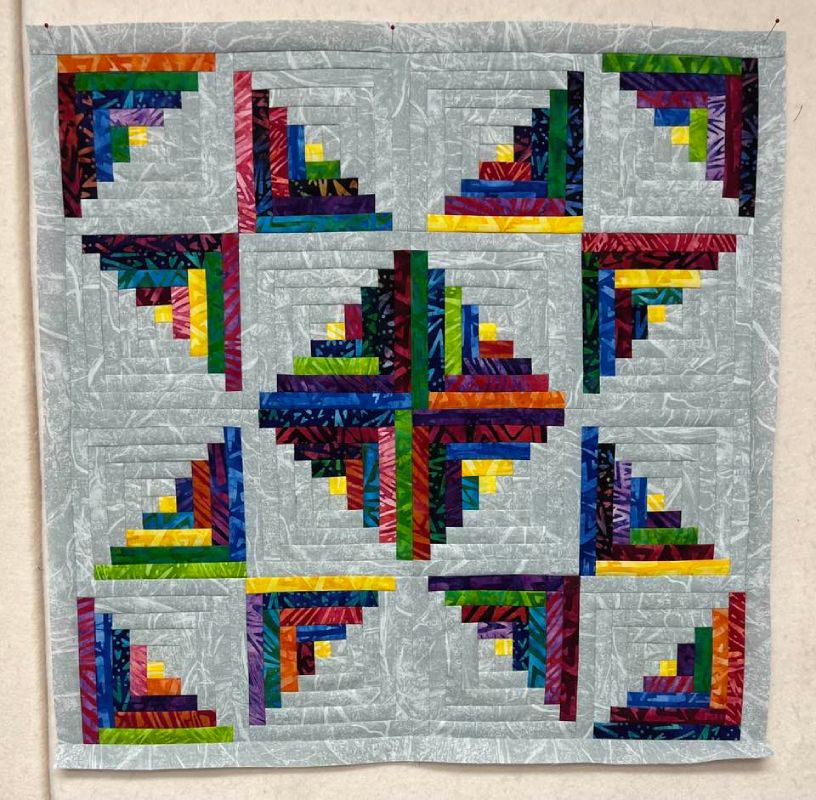 Many of you decided to join AccuQuilt Cutting Expert Pam Heller in making your quilts larger than the pattern, and again, each one is uniquely fabulous!
Corrine P. B. added two rows to her quilt and tweaked her layout to create a stunning secondary design. She added even more size with a double border that really accentuates her layout. It looks like her furry design assistant approves, don't you think?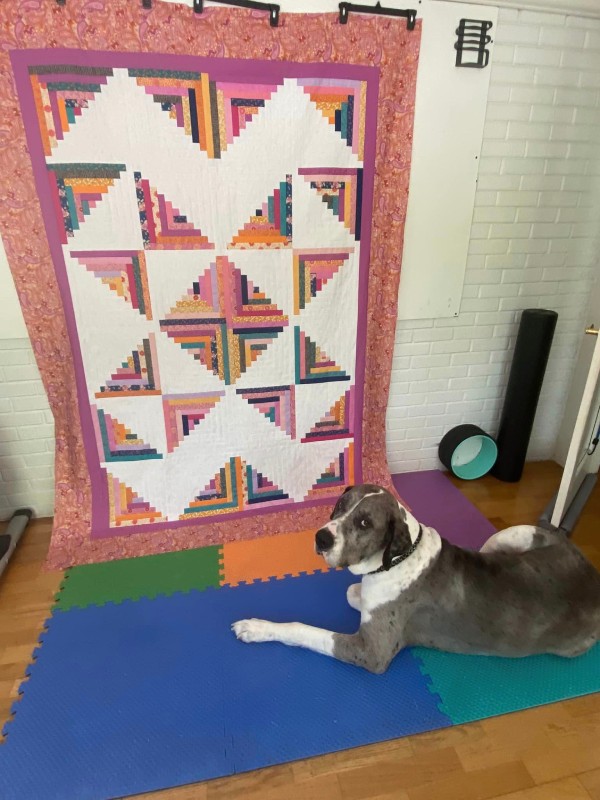 Sonya J. really switched up her layout for this stunner! Her husband helped with the layout and this was his favorite look. She expanded her quilt with additional blocks and added the traditional red center square to her scrappy look, too.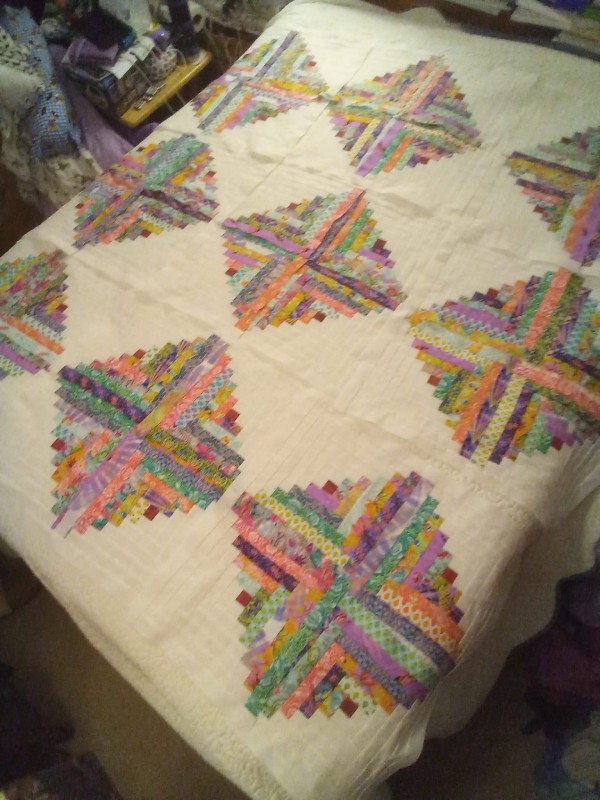 Georgia M. C. stopped me in my tracks with her modern, off-center interpretation! I'm in love with everything about this quilt, from fabric choices to layout. Hmm, maybe I'll take a page out of her playbook for my next Log Cabin quilt!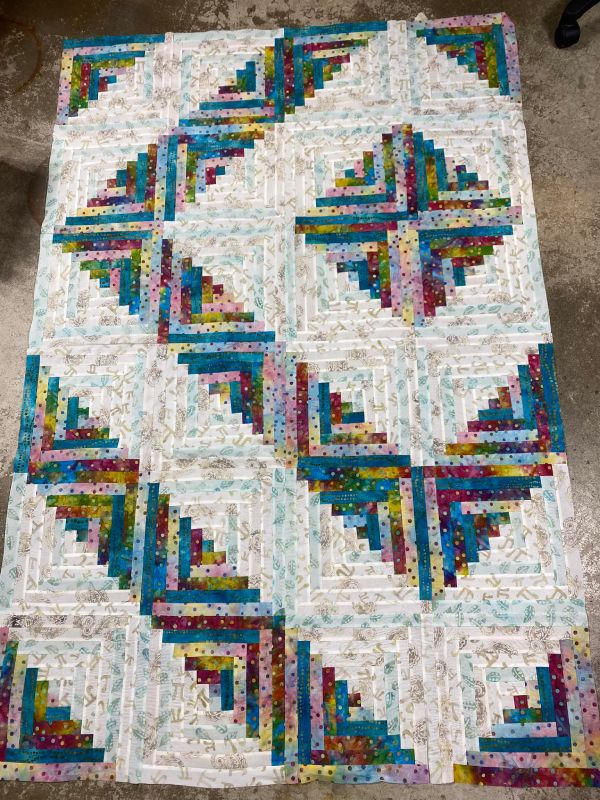 Prairie Treasures Maze really changed things up and made a quilt top measuring 104" x 104"! Wow! More blocks, more borders and a fun layout – oh, my! Both light and dark sides are scrappy goodness here, again with traditional red center squares.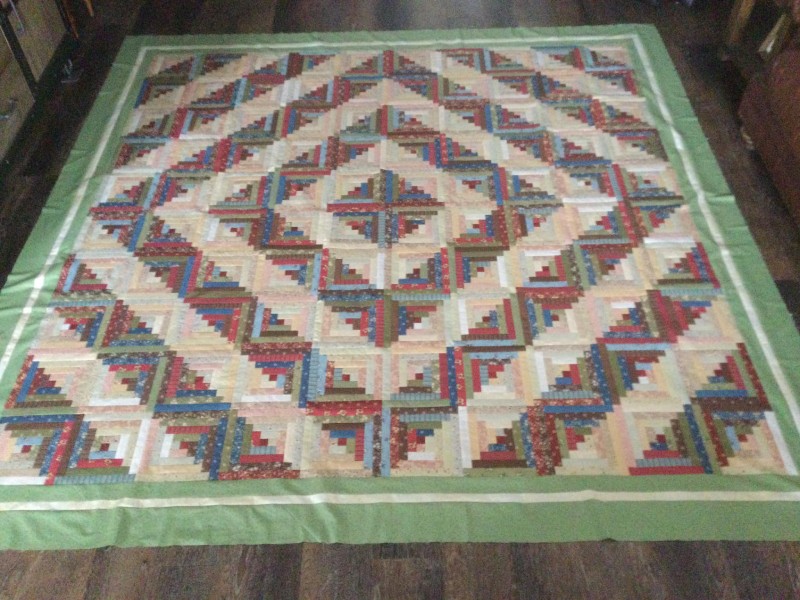 Barbara E. S. created this stunner that's going to be donated to the Quilts of Valor Foundation (QOVF). She's enlarged the center and added a fun triple border to make this quilt a great size and a vision of red, white and blue.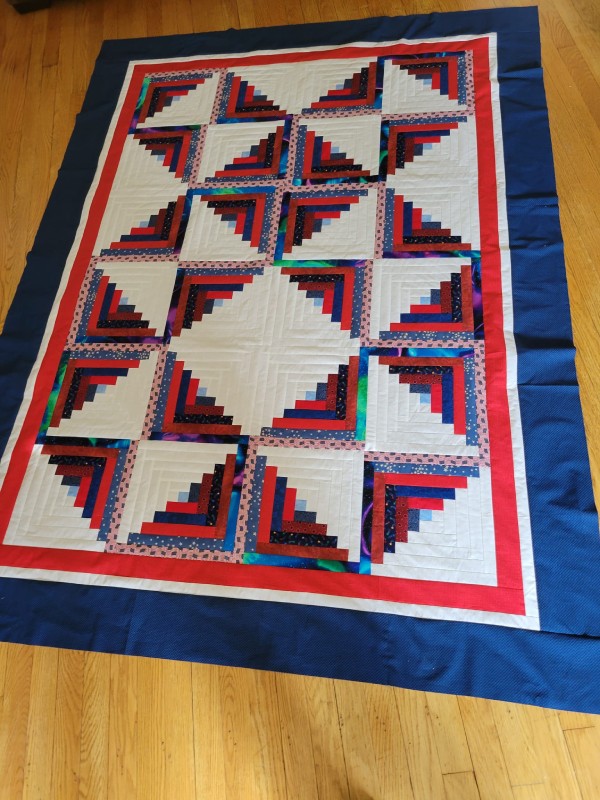 Triple borders were popular for many quilters, but I really love how the inner dark border changes the feel of in Rose T. W.'s design. It really highlights the center star, with the four dark corners acting to focus the attention to the center of the layout.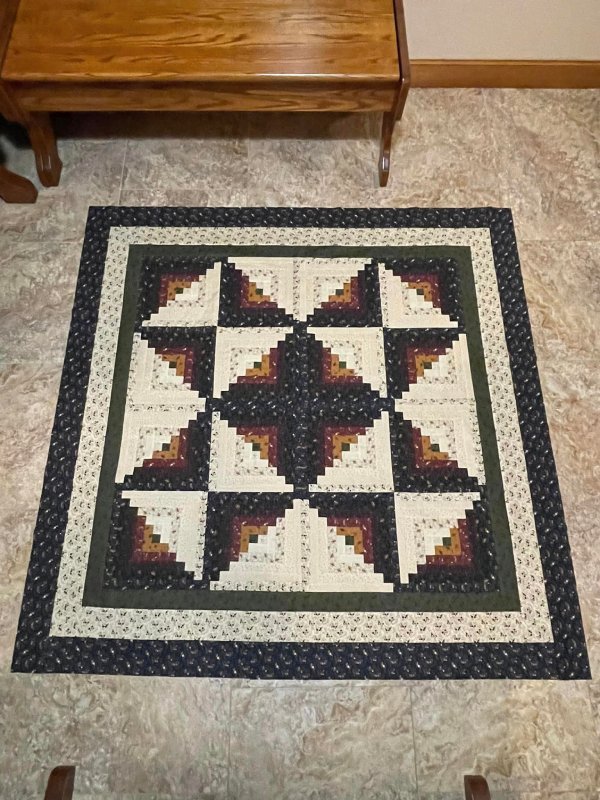 Log Cabin quilts are often just two colors. I'm a huge fan of how Micki W. made her GO! Scrappy Star Log Cabin Quilt with scrappy versions of two colors! What a fun, modern twist on the traditional look.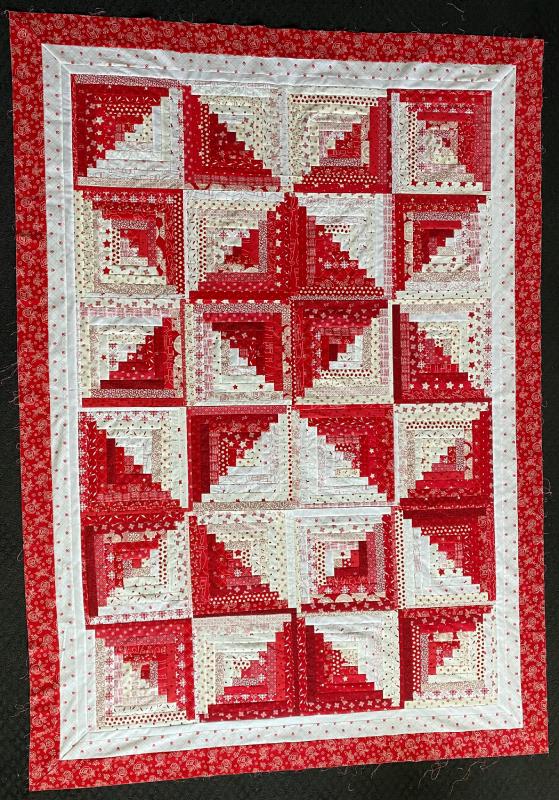 Wow!
I'm simply blown away be each and every quilt that I've seen posted, and I wish I could have included each one here in this blog post! Be sure to check out the AQS Show & Tell blog post to see even more amazing quilts.
If you haven't yet joined the AQS Quilting Project Parade Facebook group, be sure you do! It's a wonderful, inspiring and helpful community of quilters. Pam and I are both enjoying this page so much and loving the chance to interact with all of you! Be sure to invite all your quilting friends to join as well – it really is the more the merrier!
So, quilters, take a deep breath and relax because even though we've wrapped up this quilt-along project, we'll be starting our next one on Wednesday, June 7! We aren't revealing the project just yet, so be sure to keep an eye on the AQS and AccuQuilt blogs, the AQS Quilting Project Parade Facebook group and Pam's Wednesday livestream events as we reveal more details. As with our other projects, we'll have directions for cutting with the GO! system as well as traditional rotary cutting.
Before I sign off, here's a hint on our next quilt-along project: we'll be working with 12" finished blocks set on point…
"