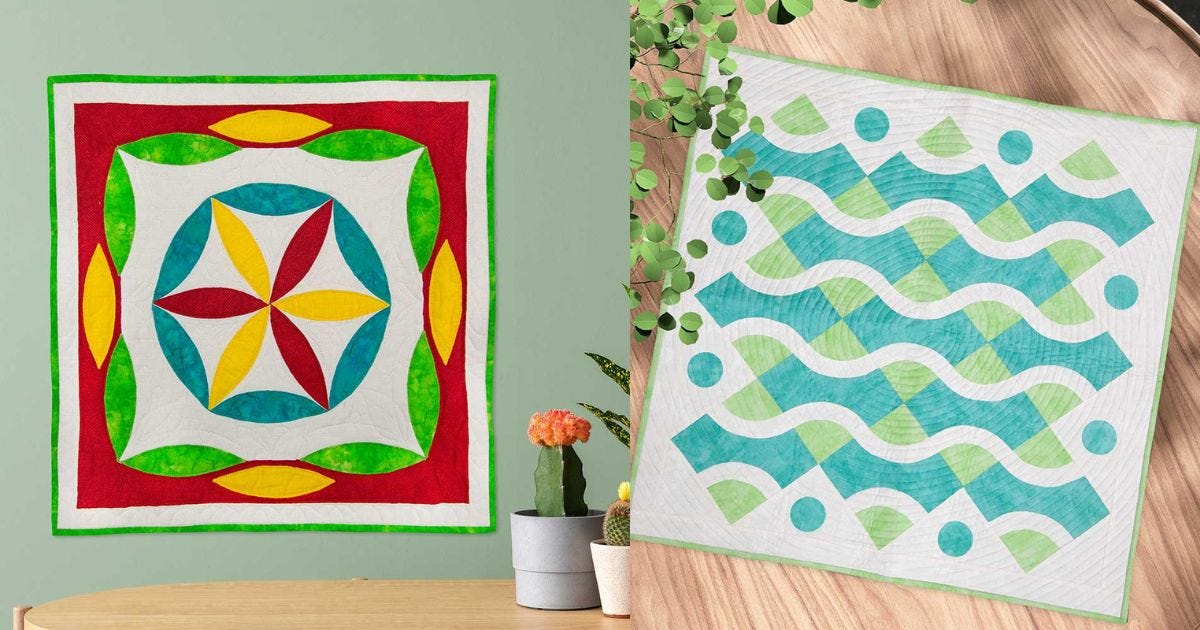 All kidding aside, this die duo is sure to have you sewing curves – and loving it!
Nervous about sewing curves? Well, there's no need to be nervous with GO! Dies because you'll have perfectly cut pieces that include placement notches! Now, before we go any further, here are my tips for creating with these dies:
Download the free Block Assembly Directions found on each die's product page.
While you're on the page, watch the videos AccuQuilt Cutting Expert Pam Heller and I made showing you just how to make these "blocks."
Pin the placement notches together.
Sew your curves with your "smile," or concave, shape on top.
Remember: your job is simply to guide that bottom fabric. Let the machine do the hard work!
If the top fabric seems to be bunching up, stop sewing. With the needle down, raise and lower your presser foot to release the puckers.
Make a test block.
Relax! It's going to be fine!
GO! Joseph's Coat
Let's start with a look at these dies, starting with a classic, the GO! Joseph's Coat-11" Finished Die. This die is on a 10" x 10" die board that's compatible with the GO! and GO! Big Electric Fabric Cutters, or a Studio 2 with an adapter. It features two shapes that will come together to create fun, circular blocks. Screenprinted letters on the die make organizing your pieces simple, too.
After your test block, it's time to jump in and make some of our wonderful projects with this die – or create your own. There are wonderful free patterns you can download for this die, starting with the GO! Daisy Chain Table Runner. This fresh, floral runner finishes to 11" x 55", but can easily be adjusted to be longer or shorter.
You'll create a totally different look with this die when you make the GO! Joseph's Coat Table Topper. Adjust the colors to fit any decor theme or holiday with ease.
Speaking of holidays, look at the GO! Joseph's Coat Stocking, which is made by combining the GO! Joseph's Coat-11" Finished and GO! Santa Stocking Dies. I love the soft blues with cream for a vintage look, but it would be wonderful in any color combination.
Moving from classic to modern, we have the GO! Signature Circles-6" Finished Die. This original block design is both flexible and fun, creating so many different looks! This die is also on a 10" x 10" die board and is designed to cut one 3-color, 6" finished block in a single pass through the GO! or GO! Big Electric Fabric Cutters. Combining four of these blocks creates a 12" finished block. Once again, this die has screenprinted letters and cuts those oh-so-important placement notches for you. These blocks will work together to create beautiful projects, but they'll also work with so many of our other dies as well.
You'll easily create the bright and sunny GO! Rainbow Rings Baby Quilt using just this die. It's a great chance to use some scraps, too. This quilt finishes to 36" x 36", the perfect size for a baby – and for a weekend project!
Create a totally different look with the GO! Groovy Circles Pillow Cover. I love these bright solids that would look at home on any patio or deck, but would also appeal to teens, tweens and fans of mod looks.
Create a real show-stopper with the GO! Nine Patch Circles Throw Quilt. The 2-color look and combination of traditional and modern shapes will appeal to both modern and traditional quilters. This one will be so easy, you make want to make several, so be sure to try out color combinations with AccuQuilt's free design tool, GO! Quilt.