Hello! Today I am sharing some great ideas for organizing all your quilty things. But first, let me introduce myself. My name is Lori Miller, and I am one of the newest AccuQuilt GO! Getters. I spend a lot of creative time in my studio in Oxford, Michigan. I am a quilter, pattern designer, and teacher of quilting and EQ8. I am now happy to say I am a big fan of AccuQuilt.
I started using AccuQuilt when I borrowed a machine from my Quilts of Valor group. I did not understand why folks were using a die cutter instead of rotary cutting, but getting to really try it out opened my eyes. I love the cutting accuracy of using the die cutter and it is great to bust your scrap stash. I can zip through cutting an entire quilt and have it ready to go in a project bag that I can take with me to sew days, retreats or just a day in my studio.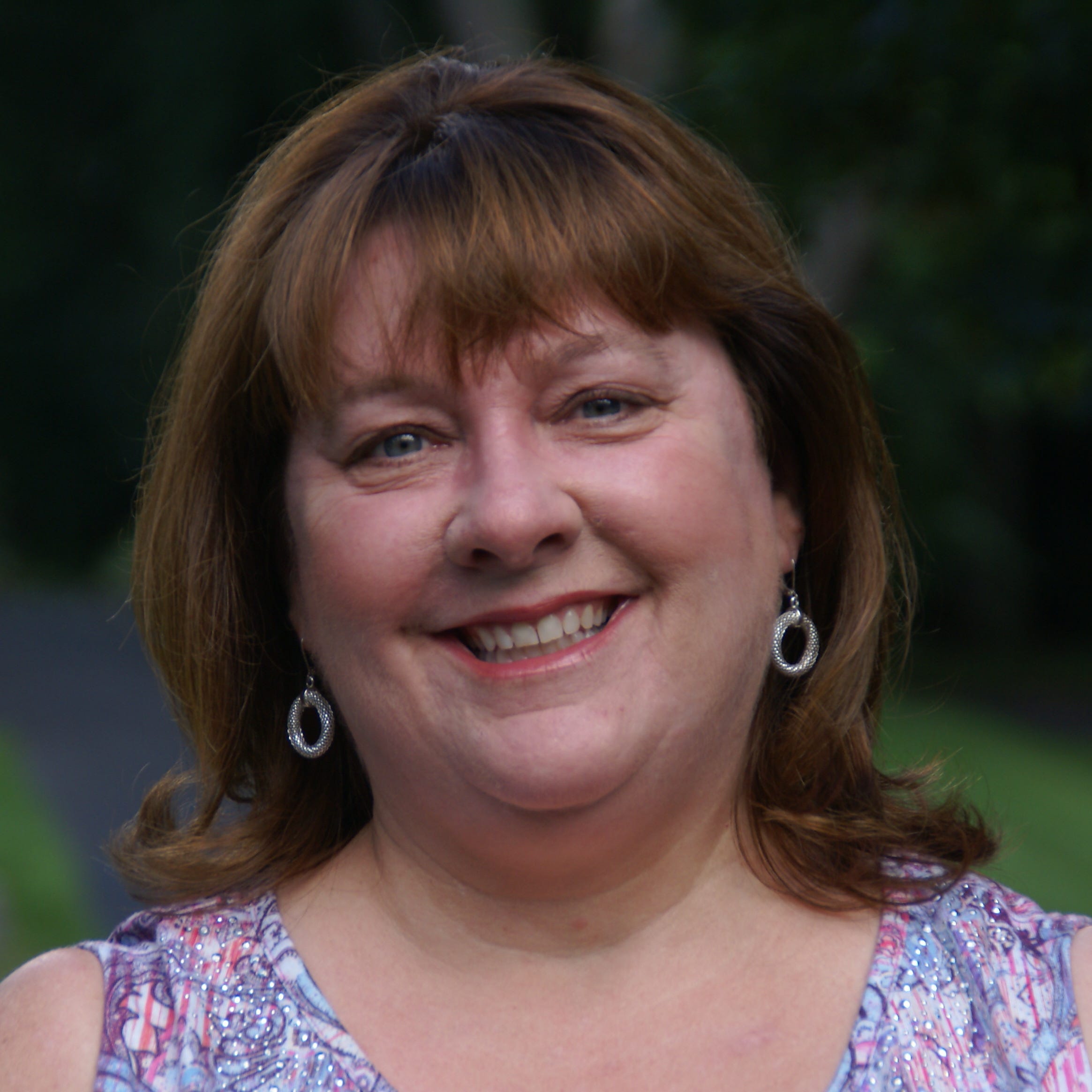 I now have of my own a Ready, Set, GO! Fabric Cutting System (55700) that includes the GO! Mix & Match 8" Qube and the GO! Strip Cutter-2½" (2" Finished) (55017). I have already been trying it out and I am learning new quick and easy ways to cut my quilt pieces.
I have been putting my studio together over the past year since moving to Oxford. I want to share with you 10 terrific ways I organize my fabric, tools and stash.
If you're in need of good cleaning before reorganizing, take a look at this post about cleaning your sewing room for some help to get you started.
Here we go!
10 Best Tips for Organizing Your Sewing Space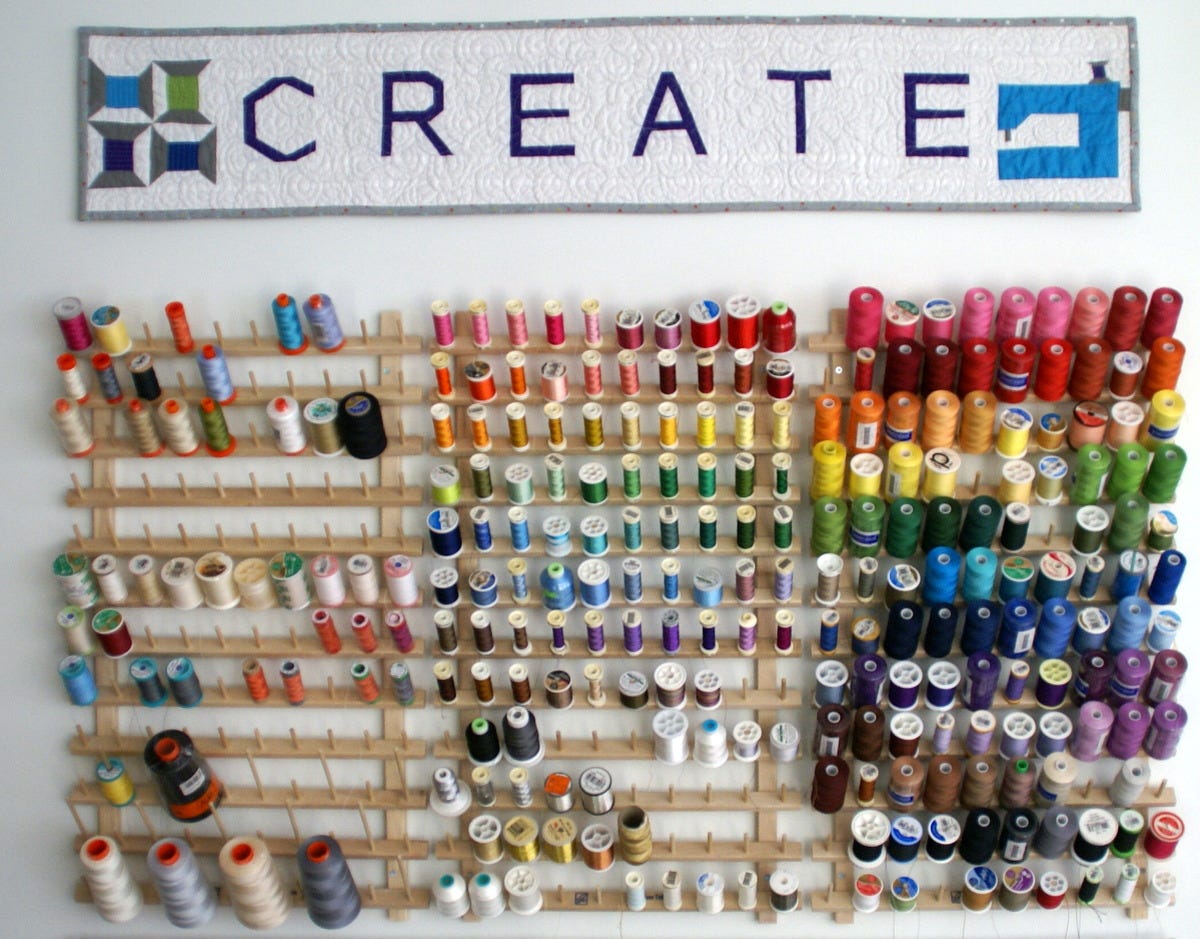 1 - Thread Organizer Racks
I found these wooden thread racks that hold 120 spools each. I like to sort them in rainbow order, so they're both functional and decorative. I have one rack for piecing or sewing thread, one for machine embroidery spools and on the left is my machine quilting thread. My hubby even modified the bottom rows with longer dowels to hold my thread cones.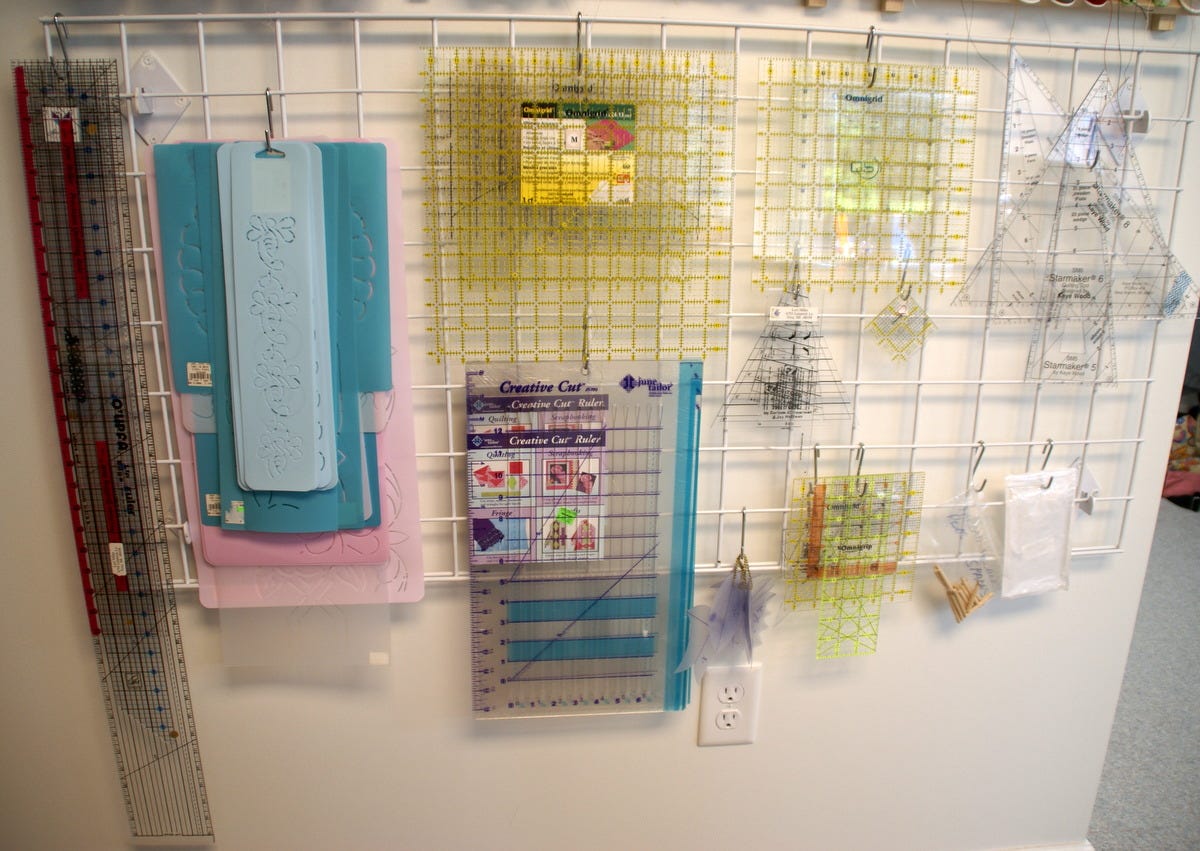 2 - Grid Wall and Hooks
I had plastic rulers, templates and stencils everywhere, tucked here and there and could never find what I was looking for. I picked up this grid wall and attached it to the wall beside my cutting table. I added hanging hooks and organized everything where I could see it. The hooks make it easy to rearrange too. Now I can find what I want in a jiffy!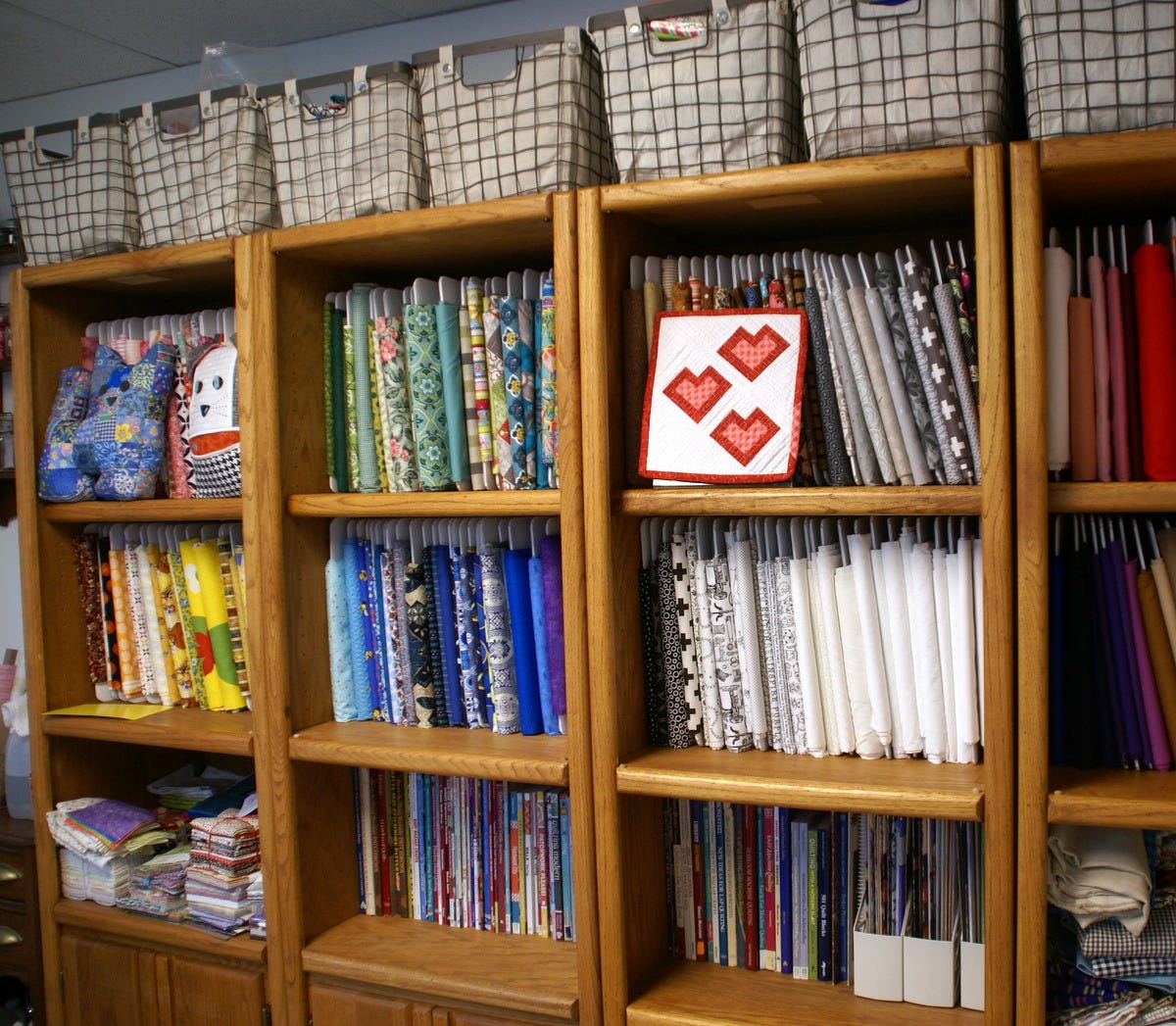 3 - Bookcases
I have quite the stash including vintage fabric I rescued from Grandma's attic. My solution to the growing tubs of fabric: shelving units. I picked up these oak cabinets on Craigslist for a song. They hold my mini bolts, precuts, magazines and books.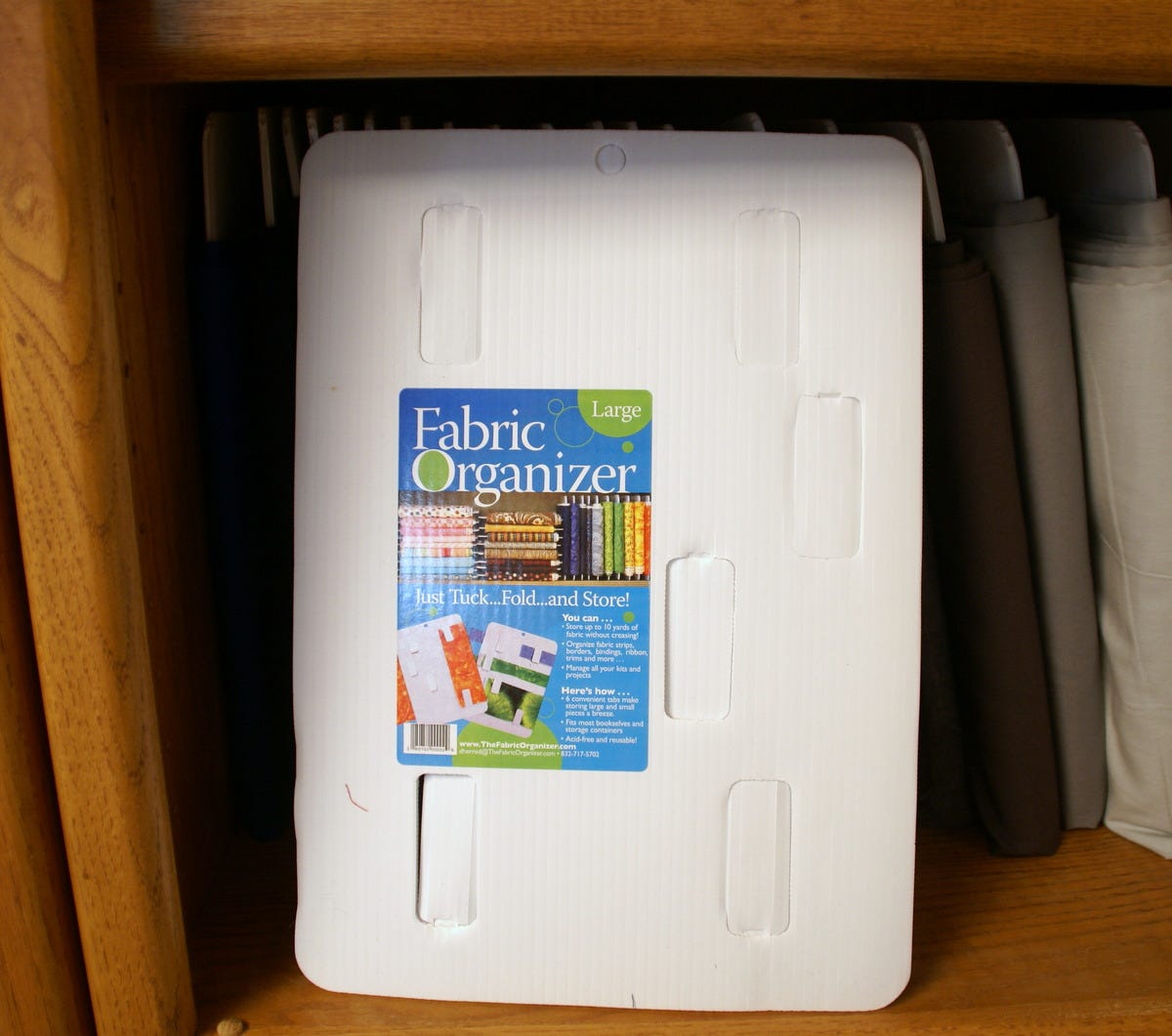 4 - Mini Bolt Fabric Organizers
The shelves are the perfect height for these fabric organizers that I wrap my fabric onto to create mini bolts. These are the large size from thefabricorganizer.com. It makes it so easy to see and keep track of my stash.

5 - Wire Baskets
Each bookcase is the perfect size for two baskets to fit perfectly on top. I store seasonal fabrics and other substrates like canvas and wool in these because I don't have to get into them as often. This keeps them accessible, but stored out of the way. The cotton liners hide the mess and they are a nice size to hold a lot of stuff.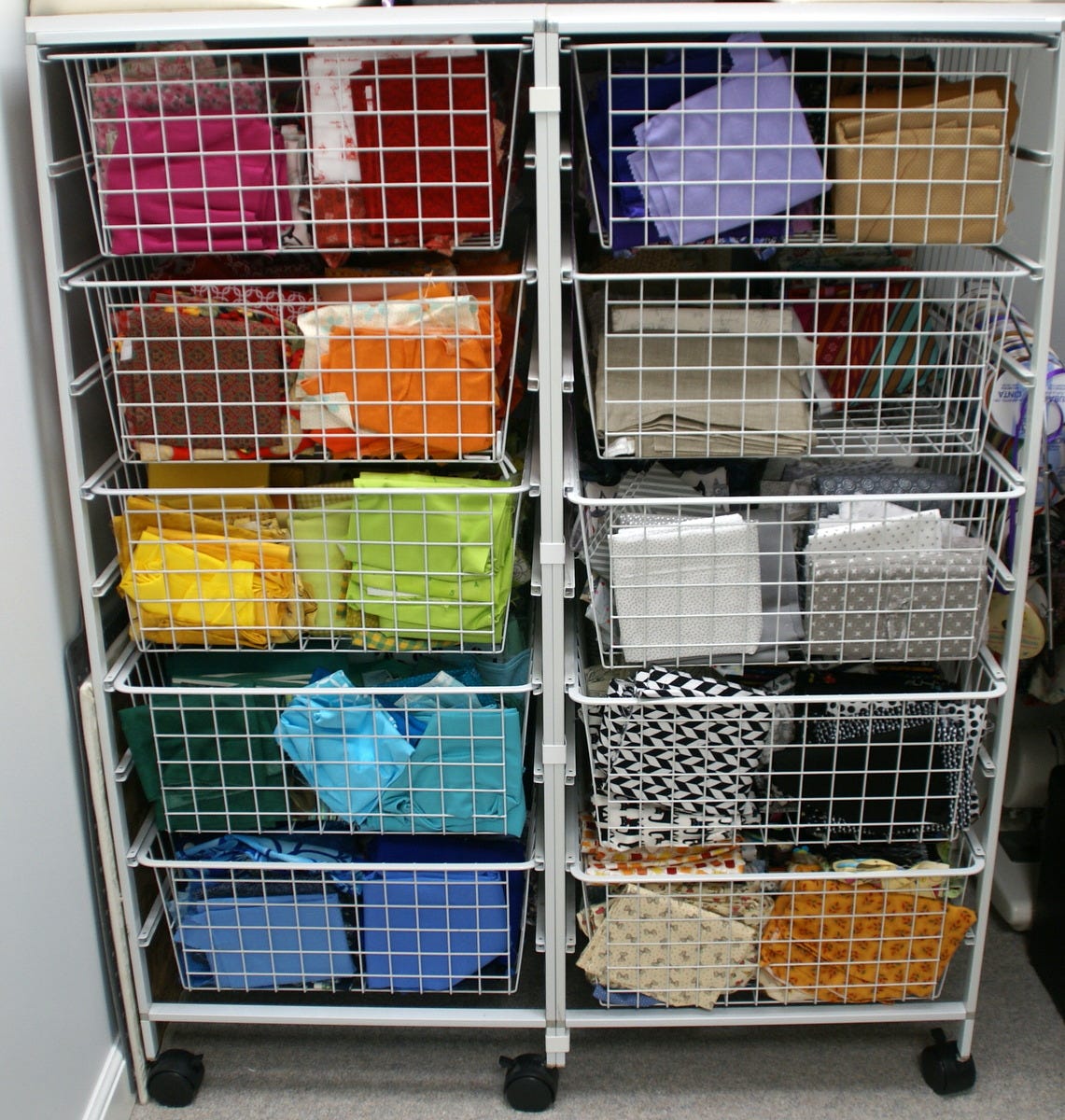 6 - Wire Basket Drawers
I have two of these wire basket drawers to hold my fat quarters and smaller amounts of my fabric stash. Again, I organize and store the contents by color. The set I have are so easy to see through and open to pull the colors I need for a project. While mine are wire, you can probably make any set of drawers work in your space, though I do recommend you stick to something that's translucent. That way you can see what's in the drawer before you pull anything out and hopefully maintain the order you create.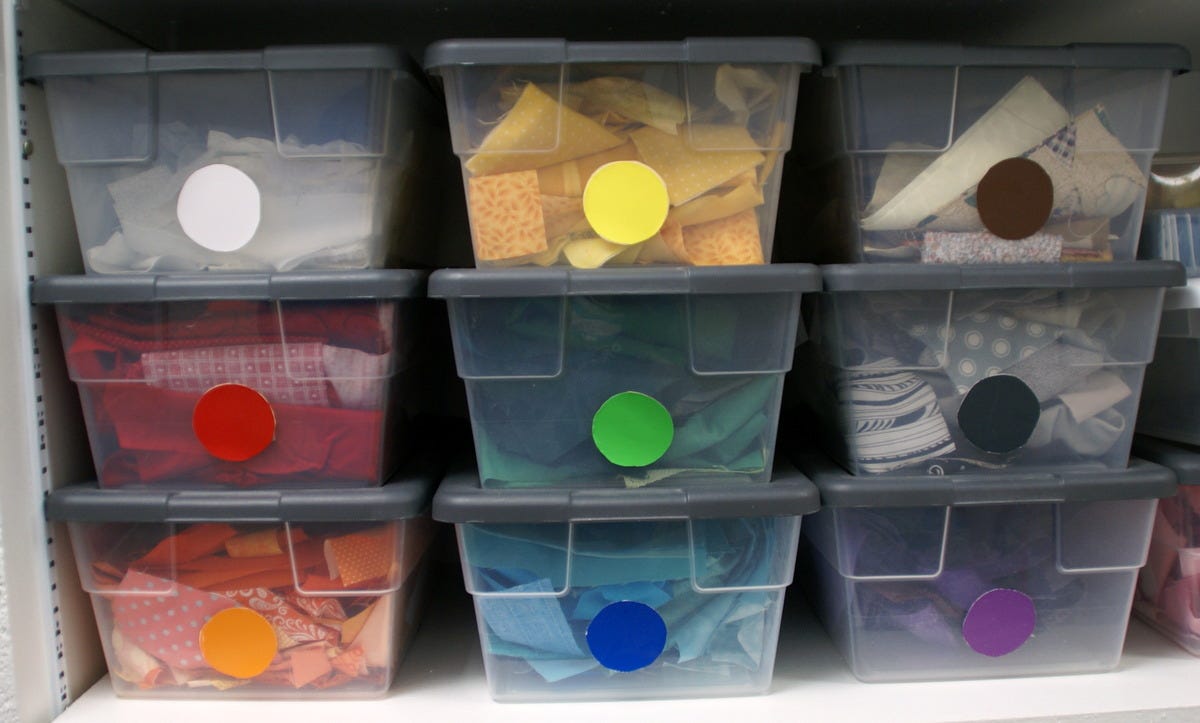 7 - Plastic Shoe Boxes
For my small scraps of tone on tone fabrics, I use these plastic shoe boxes. They are great storage containers that you can see into. I got these in a pack on sale.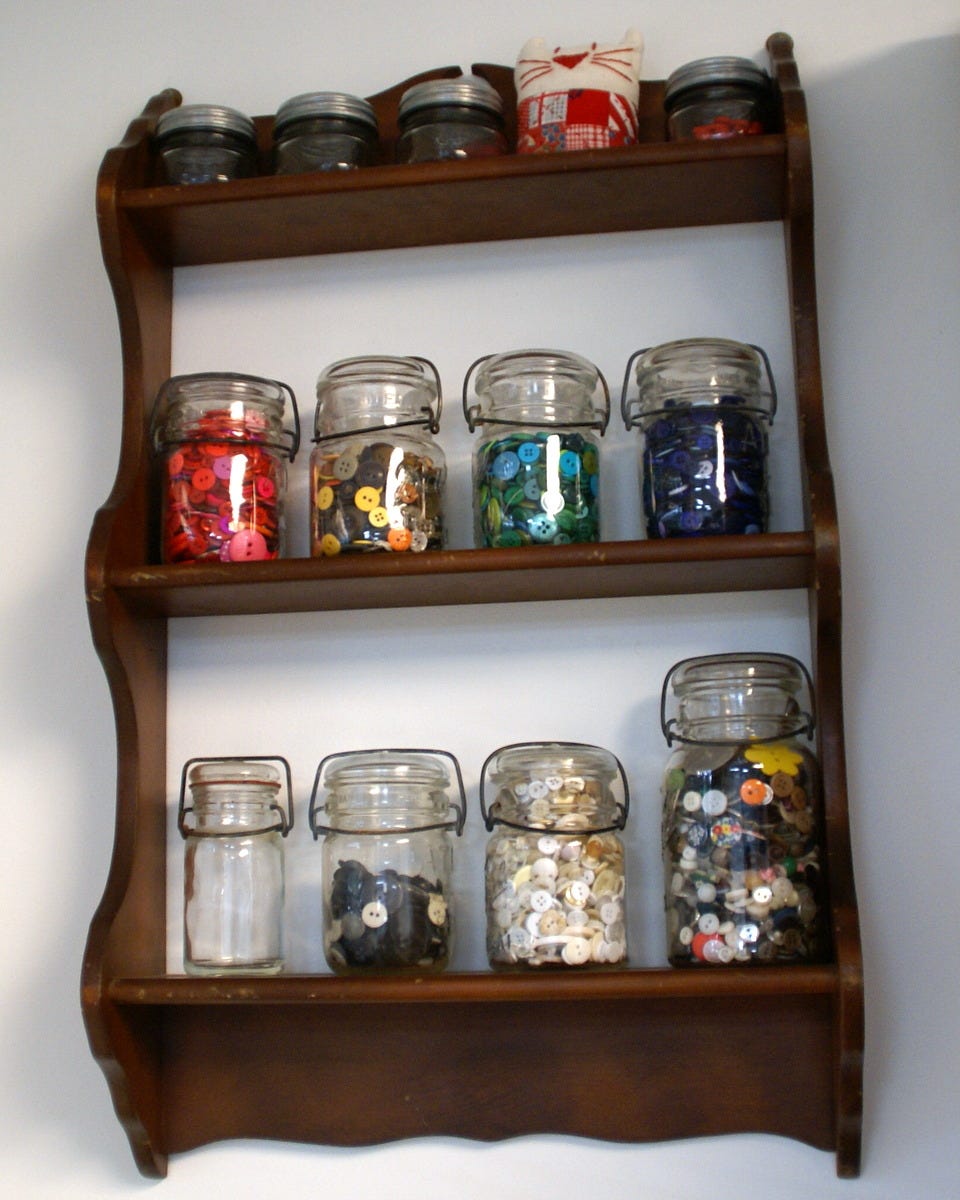 8 - Button Jars
I picked up these vintage canning jars and sort my buttons into them by color. They are super cute and fit perfectly on this shelf I thrifted. If vintage or mason jars aren't your thing, there are so many similar options. Here are just a few I can think of:
Plastic craft containers
Compartment box drawers
Resealable food storage containers
Safety pins (place buttons on the pin, then clasp it closed and store in a drawer or bin)
Food seasoning containers and rack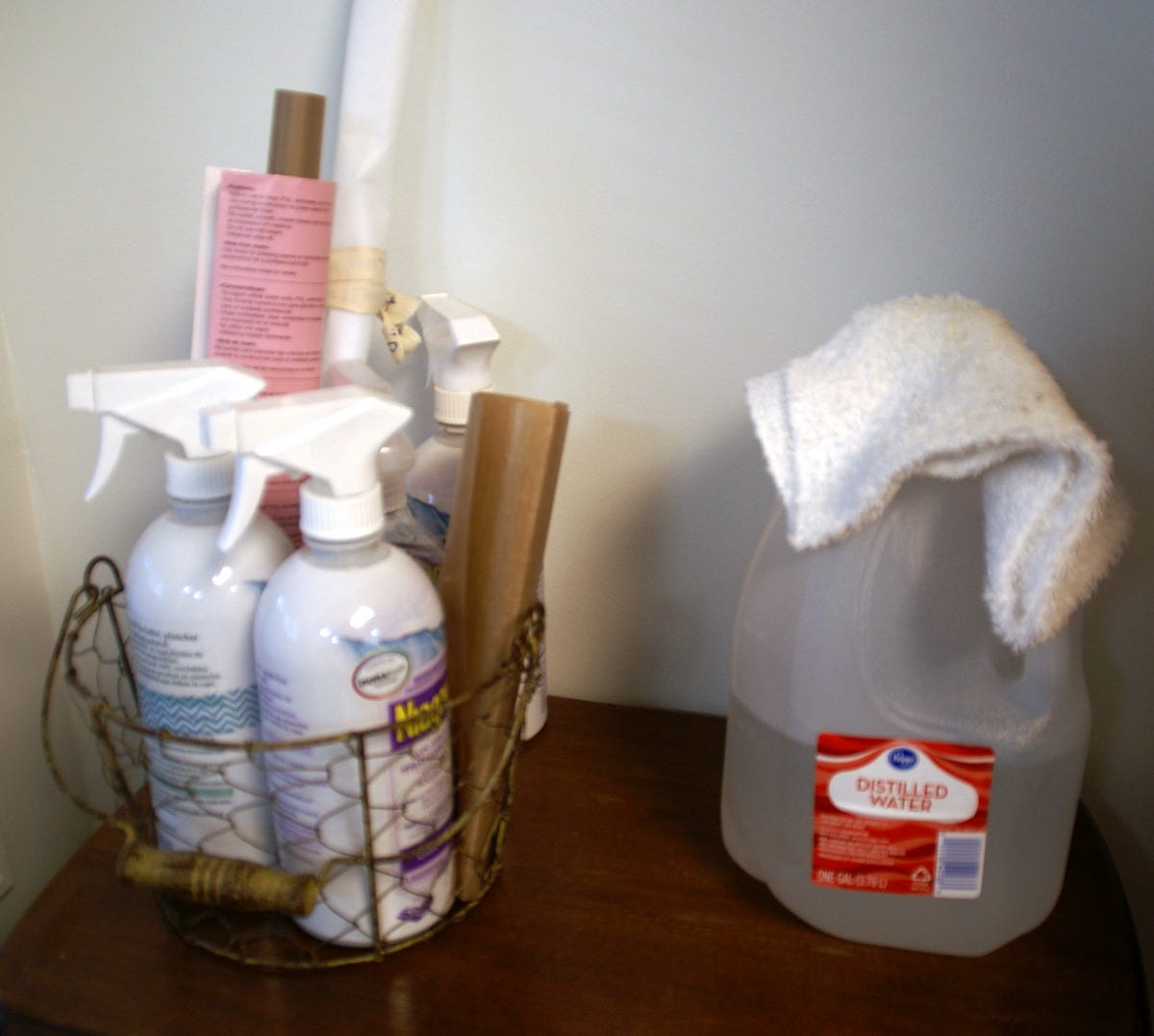 9 - Decorative Baskets
I keep all of my ironing supplies together an in one place. I tossed the pressing sheets and various starches and sizing in this cute chicken wire basket. The look matches my vintage look, but again, there are tons of similar solutions that can match your decor. For example, wicker baskets, wooden crates or metal tubs all look great while out and can easily be moved out of sight.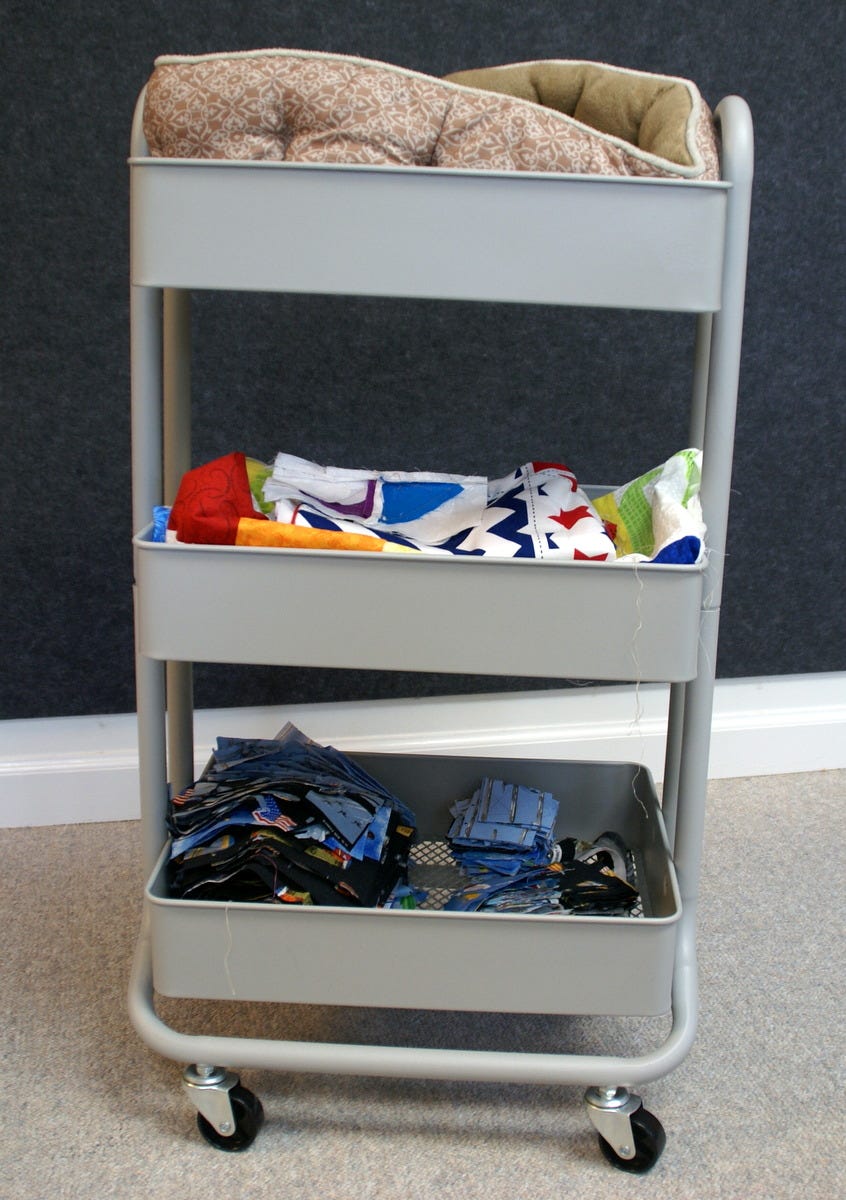 10 - 3 Tier Rolling Rack
Everyone seems to have a version of this very handy rolling rack. You can find it in an assortment of colors which means you can keep it neutral like I did or make a statement with a really bold color. I keep my latest projects on the bottom two shelves. The top shelf, well that is a cat bed. My cat, Cookie likes to join me in the sewing room, so I just wheel him around wherever I am and he is happy.
Do you have a great way of organizing your quilting fabric, tools, or stash? How about your AccuQuilt dies? Please share in the comments below! Follow Lori J. Miller's adventures on Instagram, Facebook or on her blog. And be sure to subscribe to our blog for more advice like this from our GO! Getter team.
"